! Portal to threadwinder.info website /!>

&nbsp &nbsp &nbsp &nbsp &nbsp &nbsp &nbsp &nbsp &nbsp &nbsp &nbsp &nbsp Click on banner, above, to enter threadwinder.info website.
This website is dedicated to my love of textile history, its tools and lore, as well as making textile items (especially crochet), beadwork items, and rock-hounding, and to my dreams of making the ideal studio/museum/library to house collections and production. My Great Aunt taught me crochet basics when I was 7, but I waited until I was 21 and pregnant to learn how to read crochet patterns. (My son, Paul Allan Ballard, is now an extremely talented "Official" Star War Artist.)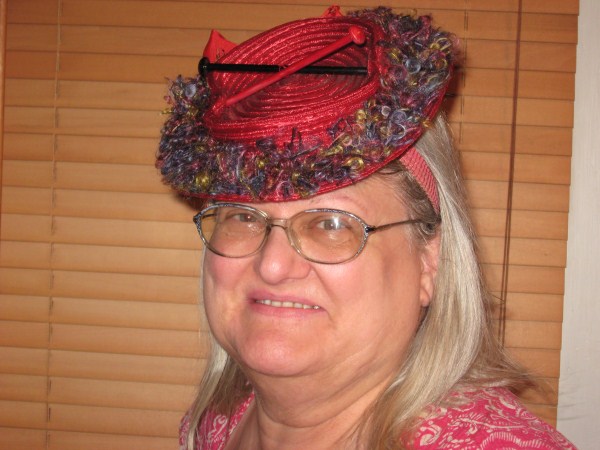 While pursuing a computer specialist career, I collected textile production/embellishment tools and studied numerous related techniques in my spare time. I also first learned seed beadwork from a Cherokee and bead stringing from a Chinese-American. Since then I have been fortunate enough to study under numerous notable bead artists. But it wasn't until retirement in 2006 that I found the time to follow my passions. I joined CGOA, earned a Masters of Advanced Crochet Stitches & Techniques, and volunteered to become a junior reviewer of Masters candidates' portfolios. I made crochet and beadwork designs. Since I had taught a few crochet classes and sold a small number of designs, I was accepted as a professional CGOA member. Although I did not have a background in website development, I learned enough to create this website, which is very much a work-in-progress.

I was extremely fortunate that Randy Cavalier volunteered through CGOA to mentor me. Our styles could not be much more different. Randy does beautiful, classic designs, whereas, I am drawn to jewelry, 3D items, freeform designs, and historic patterns.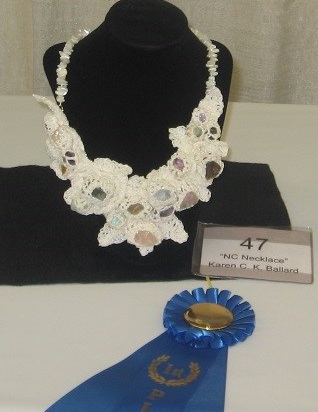 She also is extremely perceptive and wise. Randy encouraged me to work toward my strengths and interests -- to find my niche. That sounds obvious now, but I thought my greatest desire was to teach and travel. Randy helped me analyze my desires and our discussions made me realize that I particularly enjoy writing and that I am uniquely qualified to write about historic needlework with complimentary designs. In the past 2 1/2 years I have written a regular column for the CGOA Chain Link Newsletter, published six articles, published three designs, and am under contract for a fourth design, all related to historic needlework (mostly crochet) and mostly for Interweave Publications. A few books are in my future plans. I also provided Melanie Gall, a fantastic singer, with vintage sheet music and historic expertise for her CD of WWI knitting music, Knitting All the Day. In 2011 at the Greensboro, NC CGOA Chain Link Conference, I took freeform classes from the amazing Prudence Mapstone. Her work inspired me to design my NC Necklace which took first prize in the 2012 CGOA Design Contest, Small Wonders category.